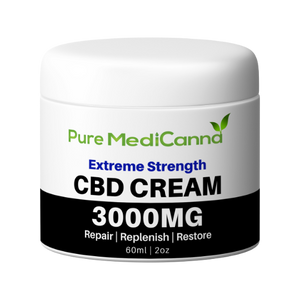 CBD Cream - 3000mg
Sale price Price $119.99 Regular price
Extreme Strength 3000mg CBD Cream
Repair | Replenish | Restore
Our unscented high-quality CBD Cream feels like a luxurious second layer of skin that doesn't just cover up or temporarily hide your symptoms, but instead targets the root cause. This ultra-potent CBD cream attacks pain and inflammation directly at the source and provides relief where it hurts. It is absorbed through the skin to deliver proven natural inflammatory medicine for powerful relief.
Why you will love it: You will notice, almost instantly, your aches and pains literally melting away as the cream absorbs fast and penetrates deep into your skin to the source of your pain. It contains a delicate amount of menthol to provide a cooling effect, just enough to let you know it's actively performing its magic. It applies smooth and dissolves almost instantly to provide you with the long-lasting relief you expect.
Directions: Apply liberally over the desired area and gently massage into the skin until completely absorbed for rapid and maximum relief. Repeat daily as many time as needed.
Jar size is 2oz. 
Ingredients: CBD (Cannabidiol), Coconut Oil, Soybean Oil, Vitamin E, Emulsifying Wax NF, Stearic Acid, Aloe Vera Juice, Menthol, Kosher Vegetable Glycerin, Phenoxyethanol, Ethylhexylglycerin
Customer Reviews
02/02/2021
Nahara P.

United States
I recommend this product
Potent! Excellent cream.
I bought this one and the cream was different from the other creams. Airier, less petroleum based, container was plastic vs the glass jars in the other ones. I was surprised but decided to try it. I rubbed it into a shoulder injury and within 5 mins I felt a huge difference. Lasted all night into the next morning. Best one yet! I recommend this cream to anyone. Great to keep in your medicine cabinet at all times.
02/02/2021
Jim M.

United States
I recommend this product
Cbd 3000mg
I was using the 1000mg cream which was fine, but this is even better!