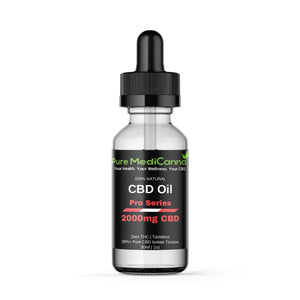 CBD Isolate Tincture - 2000mg
Sale price Price $89.99 Regular price
CBD Isolate is the most potent punch of pure CBD. Our CBD isolate tinctures are blended with just organic MCT oil to allow for maximum bio-availability. Drop the liquid under your tongue for rapid absorption into your bloodstream and max effect. 
CBD isolate is the CBD compound completely isolated from the rest of the other hemp plant compounds. It is the most pure form of CBD extract. CBD isolate is virtually tasteless, odorless, and free of any THC.
Made with Pure THC Free 99%+ CBD Isolate and Organic MCT Oil. Non-GMO. Zero THC. All Natural. Grown and Made in USA. 
We offer multiple potency options; 2000mg, 1000mg, 500mg, 100mg
All of our tinctures contain droppers with measured markings to allow for the most accurate dosing.
Each bottle is 30ml/1oz in size and includes 30 1ml servings. 
Suggested Serving Sizes
2000mg Tincture: 1ml dose which contains 66.6mg of CBD
1000mg Tincture: 

1ml dose which contains 33.3mg of CBD

500mg Tincture: 1ml dose which contains 16.6mg of CBD

100mg Tincture: 1ml dose which contains 3.3mg CBD
Ingredients: 99%+ CBD Isolate, MCT Oil
All products contain less than 0.3% THC